Info Renovation Energy
03 Oct 2018 - 19 Dec 2018, 09:00 - 12:00
Mairie de Chamonix
Event Description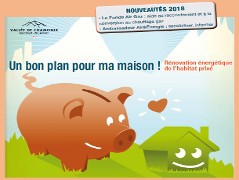 Energy efficiency program in Chamonix-Mont-Blanc


Energy efficiency program with regard to home renovations. The project targets to provide free expert guidance in terms of work-saving energy, informations about the existing financial funding, and eco-loans.
The programs are organized by "Prioriterre" and "Act Habitat" associations. They are open to all residents, whether permanent (only the financial aid of the Chamonix Valley) or secondary.
The program of the Act Habitat" association is available only to members of the "Habiter mieux" program.
Admission free!
▼
Find the Event
Mairie de Chamonix
Address:
38 Place de l'Eglise

,

Chamonix
Event Owner/Manager
Address:
Hôtel de Ville, BP 89
74400 Chamonix
Email:
infos@chamonix-mont-blanc.fr