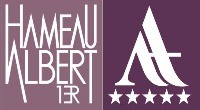 Double Michelin-starred, the gourmet Albert 1er restaurant in Chamonix introduces you to subtly modernized French cuisine, where the influence of Mont Blanc and the nearby Italian Piedmont is expressed.
In 2018, a new chef at the restaurant 'Albert 1er':
Damien Leveau, now chef at the gourmet restaurant of Hameau Albert 1er.
Second Pierre Maillet for four years, he continues, at the head of the brigade, the tradition of excellence of this table.
The Chef Sommelier, Marc-Henri Mialon, will make you discover one of the most beautiful wine cards of France.
To discover our cuisine, we propose at lunch a menu (a dish, cheese or dessert) at 49 €.
Menu of the day (an appetizer, a dish, cheese or desserts) at 73 €.
Lunchtime: Menu of the day + 2 glasses of wine at 102 €.
Evening service: 19:15 to 21:00
GOOD PLAN :
Offer 'Morning Relaxation and Gourmet Lunch' at 102 € per person.
Including access to the relaxation area, sauna, steam room, fitness room and relaxation room, all facing Mont Blanc. Continuing with lunch at the gourmet restaurant Albert 1er, double Michelin star, including a menu consisting of an entrée, a dish, cheese or dessert trolley, two glasses of wine selected by our sommelier chef. Waters, coffees and other extras as supplements.
Menu Little Gourmet Party at 110 €.
Menu of the House of Savoy, 'Clin d'oeil au Royaume du Piémont' to 176 €.
Oenological lunch:
Tastings + Lunch at 125 €
Lunch only: 75 € (We do not propose this formula anymore).
Exceptional opening:
Tuesday 25 December Christmas - Tuesday 1st January = open for lunch & dinner.
Annual closure:
* From October 20, 2019 to December 5, 2019. Reopening on Friday, December 6, 2019 for dinner.
* Then in 2020:
                - From Sunday 3rd to Thursday 21st May 2020. Reopening on Friday 22nd May 2020 for dinner.
                - From 18 October to 3 December 2020. Reopening on Friday, 4 December 2020 for dinner.