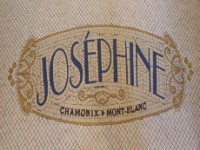 The restaurant Josephine welcomes you in a modern setting on fuchsia background. Located down town in the pedestrian zone, Josephine has existed in Chamonix for many years under the name "La Carlina".
The Brasserie, has non-stop service every day throughout the year.
Enjoy the Savoyard specialities, meat roasted on the spit, the raclettes, meats, fish, seafood trays made with fresh produce only. Friendly professional staff is ready serve you remarkably!