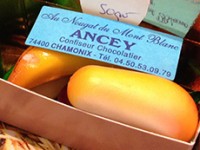 Ancey Chocolates is an institution in Chamonix with its extensive history of making fabulous chocolates and sweets. Starting as a "maison de nougat" in 1821, the Ancey family came into the company in 1892.
Philippe Ancey welcomes you to his wonderful world of chocolates, nougats, marzipan, candied fruits, homemade jam, honey and more. Philippe is passionate about this craft that has been a tradition in the family for many years. Philippe's father worked for the famous Patisserie des Alpes as a child during the war and used his experience to further develop Ancey chocolates as we know it today.
The store is situated next to the Montcler store in front of the Hotel Croix Blanche, not far from the Super U. Come by an experience some of the fresh delicacies Philippe creates daily.

Gift boxes and bags sold. Perfect for any occasion!
Orders only by phone.