Submitted by

ChamonixNews

on
Meteo-France in Lyon has issued, Thursday 11th May 2017, an orange weather alert warning of very violent thunderstorms in the afternoon for five Rhône-Alpes departments: the Rhône, the Ain, the Isère, the Savoie and the Haute-Savoie.
Powerful storm-force winds are expected from 4pm, requiring special vigilance. These winds can cause damage to property.
Orange weather alert warning from 4pm until 8pm.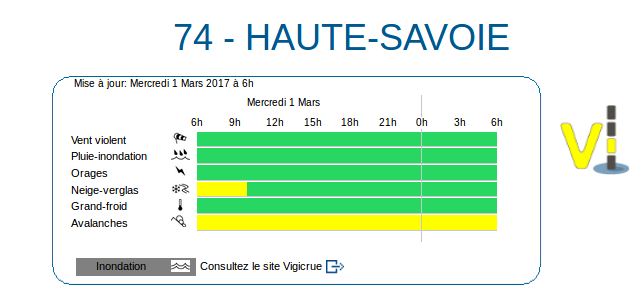 Weather forecast for today in Chamonix Mont-Blanc valley
Sunny early in the morning. But clouds quickly break with a few showers. An active rain-storm passage will cross the Alps between mid-afternoon and early evening.
In the high alpine valleys, the winds may reach up from 50 to 60 km/h.
The force of the wind will increase in the upcoming hours until evening. The Foehn is expected in Chamonix valley, if you travelling out of the valley, be aware of these strong winds forecast for today in South-Est France.
*A föhn or foehn is a type of dry, warm, down-slope effect that occurs in the lee (downwind side) of a mountain range.
image:
Possible consequences and outcomes, indicated by Meteo-France:
Strong winds can cause damage to property
Power & telephone lines may come down. Outages can be prolonged;
Flooding of cellars and low points can occur very quickly.
Tree branches may break. Vehicles can be hit or impeded;
Road traffic can be interrupted, especially on the secondary network, in forest areas;
The forest floor might have flames and might start fiers due to lightning strikes not accompanied by precipitation.
Advice on behavior:
Limit your travel.
Limit your speed on roads and highways.
Do not walk in the forest.
In town, be alert to possible fall of objects from building.
Do not attempt to access roof-tops to make repairs.
Do not touch any electricity cables that have fallen. They may be live.
Report fire immediately.