The Valley of Chamonix has become one of the main centres, attracting telemarkers from all over the world, including Norway, Sweden and the States.
Chamonix ski areas cater for telemarkers of all abilities, beginner, intermediate and experienced. There are numerous off piste runs and much ski touring. From the Aiguille de Midi, telemark the famous 20km Vallée Blanche, with its many variations.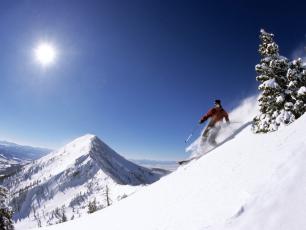 Chamonix is also the start of the Chamonix to Zermatt "High level route" or "Haute Route".
So, free those heels, bend those knees come visit Chamonix and participate in one of the most beautiful and graceful forms of skiing "Telemark".
Equipment
From the mid 1990s technical advances brought high leather boots or the rigidity of plastic boots. A variety of skis, including wide skis, and releasable bindings made getting down that slope much safer and more efficient.
The equipment is light and simple. This is a considerable advantage when Ski touring or back country skiing.
From the mid 1990s to early 2000s the kit did become progressively heavier, particularly the bindings and fat skis. Its not the equipment that is the limiting factor, its the telemarkers thighs!
History
Telemark skiing is an old traditional method of skiing originating in Norway in 1868. This facinating method of turning was invented by Sondre Auersen Norheim, who was born in the town of Telemark. He originally used this Telemark position as the landing for his ski jumping.
Many years later, Telemarking was re-invented in Crested Butte, Colorado, USA. An important contributer to its re-birth is Rick Borkovek. He wrote many articles inspiring mountaineers and ski-tourers to give Telemarking a try!
Telemarking has arrived in Europe! with Chamonix being one of its main centres.